Tax Season 2020 Special!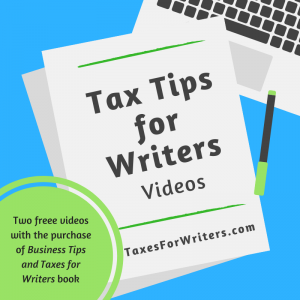 Order Business Tips and Taxes for Writers  from this website (i.e. not through Amazon.com or other bookseller) and I, author Carol Topp, CPA, will share with you two recorded videos for free!
The two videos discuss:
Schedule C tax form line by line with a sample tax return from an author
Tax deductions for writers
Special tax rules for writers
Self Employment Tax
New tax law changes
Sales tax
The  videos are for writers who are earning  money from their writing or have expenses related to writing and wonder what they can deduct on their tax return. This is professional advice from a CPA and author.
---
No time to figure out the business and tax issues affecting writers? Business Tips and Taxes for Writers will help you understand hobby income, sales tax, legitimate tax deductions, simple and easy record keeping, and the best business structure for your writing business.
Business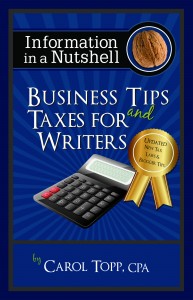 Tips and   Taxes for Writers
© 2018 by Carol Topp, CPA
Paperback : 141 pages
ISBN: 978-1-931941-21-1
Published by Media Angels, ® Inc.
Fort Myers, FL 33912   www.MediaAngels.com
Dimensions: 8.4 x 5.3 x 0.3 inches  Shipping Weight: 6.0 oz
Paperback  signed by the author  $14.95 plus $4.33 shipping and handling.